Signing up for a TV plan in today's market can feel a huge hassle. Providers often lace their plan structures with hidden surcharges and fees to lock consumers into a long-term contract they're not happy with. Here at DishLATINO, we pride ourselves on providing high-quality TV service with top-notch programming and up-front and honest customer service, all wrapped in an affordable package.
With that said, here's exactly how we stack against DirecTV, one of the nation's largest TV providers, so you can see for yourself how we compare. We'll touch on everything from plan structure, Spanish channel selection, affordability, customer reviews, and more! Let's dive in!
Channel Selection

We offer up to 270+ unique channels, with programming in Spanish and English. Each one of our plans also includes international and regional sports, telenovelas, kids' favorites, local and national news programming and more! This includes free access to our exclusive Futbol 360 application, where you can watch games from soccer leagues like La Liga MX, La Liga, English Premier, Serie A, Ligue 1, MLS, Copa Libertadores, and the International Champions Cup. With DishLATINO, you also get access to premium channels such as ShowTime, and Dish Movie Pass. You can find our whole channel listing on our website!

DirecTV offers a wide variety of different channels to select from, but if it's spanish channels you're looking for, they only offer 55 spanish channels. They also lack many of the regional and national sports channels unless you pay an extra fee on all of their plans. DirecTV also lacks the huge array of international and national soccer programming that we provide at DishLATINO.
Technology

Not only do we provide the best Spanish and English TV experience in the market, but also superior additional technology to help shape your viewing experience. This includes our Hopper 3 DVR, Voice Remote, DISH Anywhere App, and more! We want our customers to enjoy our services in as many places as possible, instead of limiting them like many large TV providers do. Plus, with our DISH Hopper Voice remote, you can control your TV and DVR by just talking! Stop spending time laboriously typing and searching for a program name and just use the voice controls, or control your TV through the DISH Anywhere Application.

DirectTV has a relatively similar approach to their technology setup, albeit a little more limited. They offer an in-home DVR system and a mobile application, but don't offer the full mobile integration that we do. DirecTV does let you control your DVR through your mobile device, but don't have anything to offer in terms of the Voice Remote or voice controls.
DVR

Here at DishLATINO we know that you can't always sit down and watch your shows exactly when they air live, which is why we built a robust DVR system that allows all of our customers to watch what they want, when they want! With our Hopper 3 DVR system, you can record up to 16 HD and 4k channels at once, all while watching live tv at the same time! Plus, you can control, schedule, and watch all of your DVR selections with the help of our DISH Anywhere App. With a built-in 2TB hard drive, you can store up to 500 hours of HD games or shows!

DirecTV's Genie DVR system has plenty of similar features to Dish's Hopper, but it is much more limited in many ways. On DirecTV you can only record 5 programs at once, which is significantly less than Dish's 16 channels at once. DirecTV does also offer a mobile phone app that you can manage and schedule your DVR recordings.
Internet Bundling

We don't just offer top-notch TV entertainment! When you bundle your DishLATINO TV package with Dish Internet, you can save big! Whether you want cable, satellite, or fiber-optic Internet, we have a plan that will work for everyone, and help you save! Plus, when you bundle with Dish, we guarantee a 2-year price lock so you will be confident in your savings for a long time! DISH has you covered with 24/7 live technical support, built-in Netflix, and the most awarded equipment in the industry—with a free voice remote and a DVR included with your package.

DirecTV doesn't directly provide its own Internet service, but they do offer bundles with AT&T Internet with all of their TV plans. They used to offer more services to bundle with, but recently cut back to just include AT&T services. While it might not seem like a huge deal, AT&T home and business internet is not available in a huge geographic area, so that leaves some Dish customers unable to bundle their TV and Internet plans. Before you sign up, make sure to see if your area is covered by AT&T Internet!
Availability

Thanks to our 9 high-tech satellites that are constantly orbiting the earth, we are able to provide our services across the entire United States. That means we are able to send service to basically every household in the country! This means you never have to deal with switching your TV and Internet service each time you move! Plus, with Dish Anywhere, you can access your service on the go, anytime you want.

DirecTV operates in a similar geographic area, and is available across a relatively large area of the country. The issue that can arise for some is that AT&T, who owns DirecTV, is more geographically limited than the satellite services, so you can only bundle your TV and Internet plans in select locations.
Contract Options & Pricing

Now, let's dig into one of the most critical pieces of this puzzle; the pricing! DishLATINO is proud to provide a huge selection of English and Spanish language channels, in an affordable package.
DishLATINO Plus – 190+ Channels – $54.99
DishLATINO Dos – 225+ Channels – $79.99
DishLATINO Max – 270+ Channels – $94.99
Remember, these are the prices for just the DishLATINO service on its own, and you can cash in on big savings when you bundle your TV and Internet plans!

DirecTV offers a fairly similar multi-tiered plan structure as we do, but with some fluctuations in channel selection and price. Also don't forget that these channels don't include regional sports channels, unless you pay an additional regional sports fee.
Entertainment Package – 160+ Channels – $64.99/Mo.
Choice Package – 185+ Channels – $69.99/Mo.
Ultimate Package – 250+ Channels – $84.99/Mo.
Premier Package – 330+ Channels – $134.99/Mo.
The asterisks in these prices represent the first 12-month price. DirecTV locks its customers into a 2-year contract minimum and prices are subject to bump up in the second year.
Customer Support & Satisfaction

We are repeatedly ranked as one of the top TV providers in the United States. We prioritize providing simple and up-front communication and pricing, so our customers always understand exactly what they're getting and what they're paying for it. We never throw hidden fees on you and always offer 24/7 support for any questions, from technical support, billing questions, or plan changes. DishLATINO is also very proud to boast one of the highest retention rates in the TV provider industry, showing our customers continued satisfaction!

DirecTV offers a wide variety of TV and Internet options, but they often get a negative reputation with their customer satisfaction reviews. Also, DirecTV's Internet network is not available in a huge geographic area, which limits the options to bundle your TV and Internet plans in many places. DirecTV regularly receives complaints about long wait times for support lines, which are often unhelpful.
In Summary
In today's marketplace there are hundreds of options for your Internet and TV providers, but none who provide the service and affordability of DishLATINO. We provide the widest variety of English and Spanish TV programming, wrapped in an affordable package, with excellent customer support! If you're interested in switching to DishLATINO, call 1-833-682-2048 today!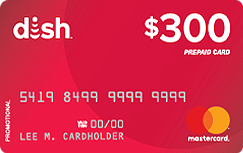 Get A $300 Gift Card When You Switch From DirecTV!
Upgrade to DishLATINO from DirecTV today and you'll get a $300 gift card! To claim your $300 gift card, just call 1-833-682-2048 and use the offer code "DTV2DISH." You'll also receive a free Hopper Duo DVR, free voice remote control, 3 months of free premium movie channels, free standard installation and more!